AT THE BEGINNING OF 2022, LONG-TIME FRIEND AND DP NATE BONSELL AND I SYNCED UP AND TALKED ABOUT A CONCEPT FOR A COMMERCIAL FOR A HIGH SCHOOL CHRISTIAN CAMP. BEFORE WE TALKED, I PONDERED ON THE IMMENSE CHALLENGES THESE STUDENTS MUST HAVE GONE THROUGH DURING 2020. "NOISE" IS THE ONLY WORD THAT CAME TO MIND. WE HAVE ALL BEEN SO GLUED TO OUR PHONES THAT WE SO OFTEN FIND OURSELVES PULLING OUR VALIDATION FROM HOW WE APPEAR, WHAT WE SAY, AND WHAT OTHERS ARE THINKING OF US. I ALSO CAN'T IMAGINE FOR A SECOND WHAT IT WOULD BE LIKE TO BE READY TO GRADUATE, REACH THE STATE CHAMPIONSHIP, OR GO TO PROM AND HAVE THAT ALL TAKEN AWAY FROM YOU. IN THE EYES OF GOD, WE ARE ALL LOST SOULS NEEDING HIS HELP - THAT'S EXACTLY WHERE WE NEEDED TO GO WITH THIS.
THE THEME OF THE CAMP WAS "LOOK TO JESUS" - WE KNEW WE HAD TO SHOW THAT TECHNICALLY. NATE PITCHED DIFFERENT IDEAS ON HOW TO HAVE THE CAMERA MOVE SUBTLY AND WITH CONSISTENT MOVEMENT TO LET THE AUDIENCE FOCUS ON THE ACTORS EMOTIONS (WE DECIDED ON THE DANA DOLLY). I WANTED TO LEAN INTO PULLING HEAVY EMOTION OUT OF THE FACE AND HOW THE BODY WAS COMPOSED - SETH BOWLING OUR AMAZING BROTHER AND PRODUCER HAD GREAT INSIGHTS ON THIS. WE SHOWED THAT DEPRESSED, PENT-UP STATE WITH EYES CAST DOWNWARD AND BODY HEAVY, AS IF BEING PUSHED TO THE FLOOR BY AN OVERBEARING WEIGHT. IN OUR LAST INTERIOR SCENE WITH OUR LEAD, JONAS, WE CUT FROM HIS EYES ON STICKS, TO HIS EYES AT THE BEACH, HANDHELD. FROM THIS POINT ON, HIS EYES ARE FIXED ON THE HORIZON AND TO THE SKY ABOVE MATCHING THE THEME. JONAS DID AN AMAZING JOB SHOWING THE CONFIDENCE IN HIS FACE AND POSTURE.
​​​​​​​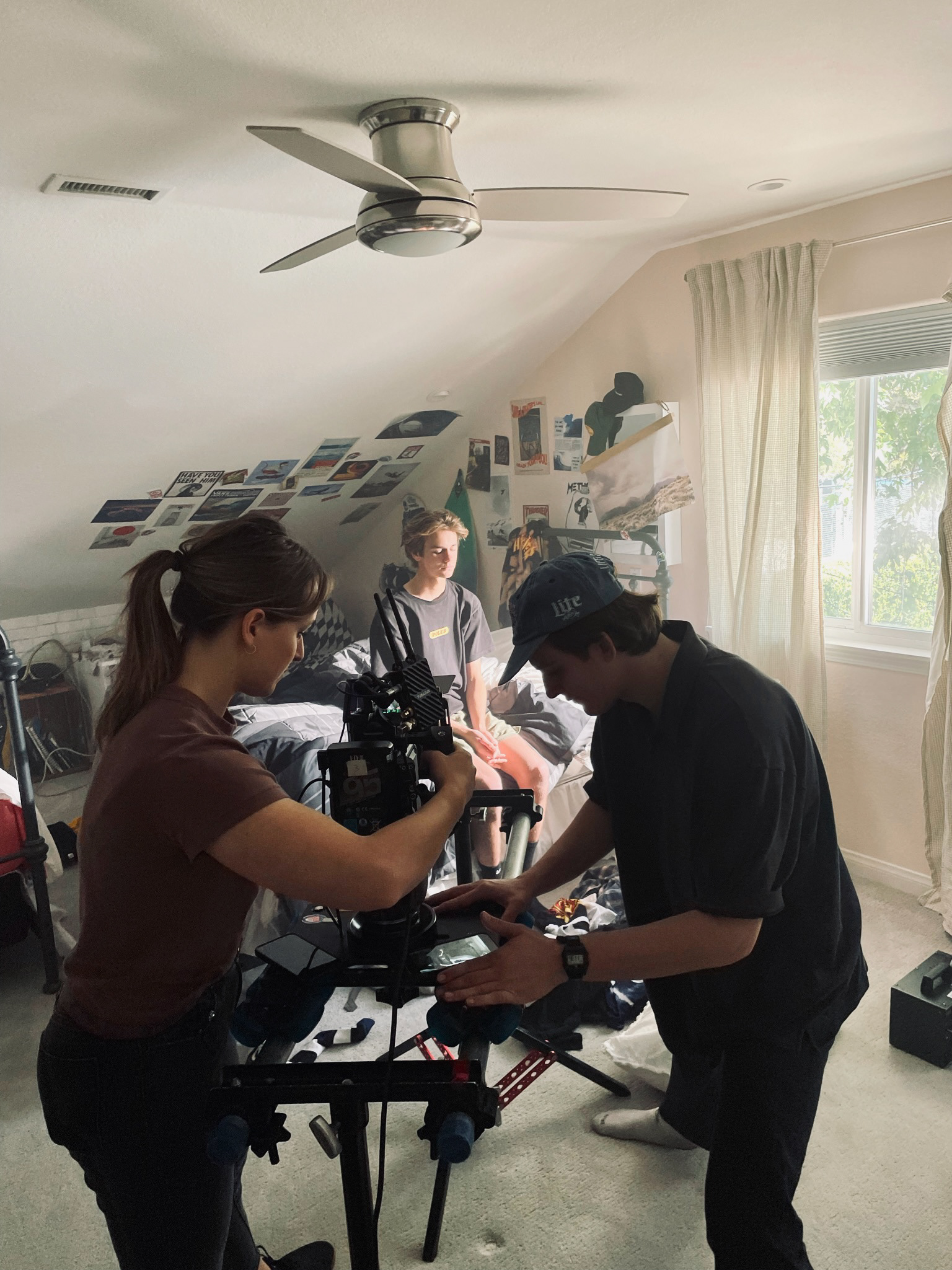 THRILLED WITH THE RESULTS AND THE PERFORMANCES!
Lead Talent: Jonas Moore
Executive Producer: Nate Bonsell
Director: Evan Rogers
Producer: Seth Bowling
DP: Nate Bonsell
Set Design: Emily Myers
Op/Gaffer: Ruth Hanthorn
Grip/PA: Ryan Miller
Edit/Color: Nate Bonsell
Shot on Red Digital Cinema with Sigma Cine Lenses